Ansteys Healthcare
Establishment and health at 70 Brunker Road, Broadmeadow, NSW 2292, Australia. Here you will find detailed information about Ansteys Healthcare: address, phone, fax, opening hours, customer reviews, photos, directions and more.
Opening hours
| | |
| --- | --- |
| Monday | 08:30am — 05:00pm |
| Tuesday | 08:30am — 05:00pm |
| Wednesday | 08:30am — 05:00pm |
| Thursday | 08:30am — 05:00pm |
| Friday | 08:30am — 05:00pm |
| Saturday | 09:00am — 12:00pm |
Rating
1 /5
Based on 1 reviews
Photos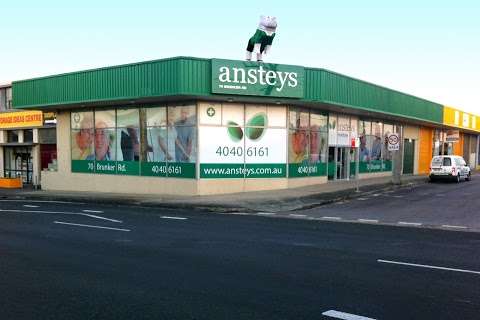 Reviews of Ansteys Healthcare
Peter Mason Added September 07, 2017

★ ☆ ☆ ☆ ☆

The phrase "Caveat Emptor" really applies when you buy something from Ansteys. On 19 March 2014, while we were at the shop for a routine inspection of my CPAP machine. We saw a Monarch Lift Chair for sale and we specifically asked about the warranty. We were advised that there was a two year warranty on this chair so we bought it. I hasten to add that it was not a cheap chair. The chair was delivered on 20th March and after reading the instructions we saw there was no written warranty provision provided. In an email dated 21st March, 2014 I queried the fact there was NO WRITTEN WARRANTY and I asked for confirmation about the two year warranty. In a reply email dated 21 March, we were informed that the chair had a 12 month warranty, but as we had been informed there was a two year warranty, Anstey's would honour the two year warranty. Happy with that, we used the chair continuously as normal. Within the two year period, We noticed that the cover was starting to crack and pieces of it were breaking off and notwithstanding we had a cover on the chair, it was starting to look like a crocodile's back. I contacted Ansteys to enquire about this damage and was then informed that only the motor was covered by the warranty. Accordingly, we have literally wasted many hundreds of dollars on a chair that was only serviceable for a little over twelve months. My advice is not to buy anything from Ansteys unless you are fully and properly advised about any "limited" warranty.
Share this page
Additional actions
Today's weather in Broadmeadow NSW
16:00
24 ℃ 1016 hPa 36 % 4 m/s 19:00
22 ℃ 1016 hPa 43 % 5 m/s 22:00
16 ℃ 1018 hPa 62 % 4 m/s